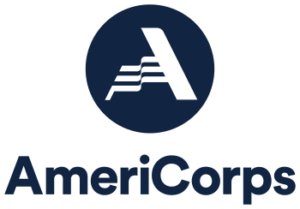 The TCNJ AmeriCorps program mobilizes the talents and interests of college students and community members, the resources of higher education institutions, and the expertise of community-based organizations to address education, economic opportunity, and food security issues.
OPEN POSITIONS:
HomeWorks Trenton – Program Assistant (900-hour)
HomeWorks Trenton is an after-school boarding program for high school girls in Trenton, NJ. The mission is to inspire and equip young women from marginalized communities to achieve their potential and transform the world by providing a supportive and educational residential environment. The scholars engage in activities focusing on academics, life skills, social-emotional growth, women empowerment, and civic engagement. This 900-hour position will link the HomeWorks' administrative and the HomeWorks house teams. At the house, you will complete a daily log detailing the needs of the house, provide scholars with academic and tutoring support, assist in tracking scholar academic progress, support the HomeWorks staff with overseeing daily programming, and more. You will also serve as House Support Staff and supervise scholars when needed. In addition, support and implement programs such as academic tutoring, study skills, college access, and identity-driven leadership.
Work Well – Program Assistant (900-hour)
Lawrenceville Job-Training Partnership (LJTP) WorkWell provides employment training for "returning citizens" – persons returning from incarceration. This 900-hour position supports the Lead Trainer and serves as a Program Support Staff at WorkWell Training. Administrative duties include sign-in sheets to track attendance, interact with the participants, and give them a sense of community. – Assist with recruiting employers and planning Workforce Job/Career Events in coordination with other nonprofits. – Assist with screening and matching WorkWell participants with employment opportunities based on their skills, work experience, hobbies, and interests.
Princeton YMCA – ACE (Accept Compete Excel) Community Outreach Program Assistant (900-hour)
ACE is Princeton YMCA's program to reduce chronic absenteeism in the Princeton Public Schools and build mentoring connections and support for students in grades 8-12 who are most at risk of missing school and falling behind. This 900-hour position will assist in providing critical administrative tasks, mentoring, and planning youth forum programs for monthly ACE mentors and mentees.
For more information on the TCNJ AmeriCorps program, contact Kristi Cordier, Program Director, at 609-771-2731 or cordierk@tcnj.edu.
Summer Community Leaders
The College of New Jersey – Summer Community Leaders (300-hour) is a 10-week (6/5/23 – 8/11/23) summer of service experience at a non-profit with a collaborative learning community of TCNJ students. If selected, TCNJ SCL provides a mentored service experience to address community-identified needs (food security, adult education/job skill training, and youth education) and weekly professional development trainings.
To find out about the Summer Community Leaders Program, please visit this page.