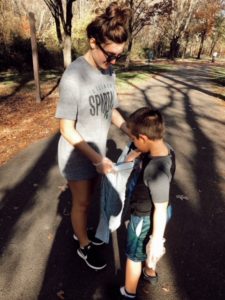 First Year Community Engaged Learning (FYCEL) is a graduation requirement that brings the College's values to life, and introduces students to the culture of the campus and community. First Year students complete their FYCEL requirement by taking the course IDS 103, which is a two-week course that consists of three in-class sessions and one half day of service that addresses one of the unmet needs of the local or regional community.
Typically, the FYCEL half day service experiences are planned by Center for Community Engagement (CCE) staff in collaboration with local community partners. The benefit of this model is that we ensure impactful experiences for both the community and students and we can build the capacity of our community partners by returning each week with a group of students to do a half day of service.
However, in recent semesters due to COVID-19 restrictions, we've been unable to host service experiences for our FYCEL program in the same way. Instead of being assigned to a service experience, students are given a unique opportunity to identify their own service experience. Students are challenged to find a service experience that identifies a need in their community that they're passionate about. While students are encouraged to come up with their own idea for service, we also share a variety of ideas including those that can be done virtually or by connecting with a local TCNJ partner.
In Fall 2020, there were 724 students who completed their FYCEL experience by doing a variety of service projects in their local or virtual communities. Here are some examples:
Students connected with organizations in their home communities such as local food pantries, Meals on Wheels, animal shelters and many others.
Virtual service experiences were done by serving as volunteer listeners with 7 Cups, transcribing documents for the Smithsonian, mapping areas with Missing Maps or assisting with a project through Zooniverse.
Some students chose to create their own service projects like starting a donation drive for a pantry or shelter, making and donating masks or completing a park/trail clean up.
Through connections with the CCE, students served with TCNJ partners including Children's Futures, Mercer County Parks Commission and Arm in Arm.
In community engaged learning, it's important to reflect on the needs of the community and how we can best support. During these times, the needs of the community have shifted and the ways that we can help are varied. By modifying the design of our service project, we've been able to allow our students to think creatively about the service they can offer and what their community currently needs. In some cases, students have chosen service experiences that they'll continue with beyond their required class.
When we're able, we look forward to returning to our local TCNJ community partners and making a collective impact on our local community.