We are proud of the work we are doing at the Center for Community Engagement (CCE). Below you will find qualitative data from the CEL Institute, Bonner Institute and the Center as a whole. Please read the Center's newsletter for narratives on the work we do. To view the Center's quantitative data, please look at our 2020-2021 CCE annual report. You can see specific focus areas, objectives, and projects we are working on in our strategic plan.
CEL Institute
Through multiple programs for varying levels of education, the Community Engaged Learning (CEL) Institute provides a plethora of opportunities for students to learn about social issues, provide service to the community, and reflect on their identities in relation to those experiences. Since each student is required to take FYC 100 as their First-Year Community Engaged Learning (FYCEL) experience, they are given a solid foundation to continue practicing CEL throughout their education. Advanced CEL deepens the impact TCNJ has on the local community through curriculum created by participating faculty that addresses a community need.
First-Year CEL students are asked to complete a post survey to gauge if the FYC 100 course satisfied specific learning goals. Of the students that completed the survey, 93% of students agreed that their FYCEL course was overall a valuable experience.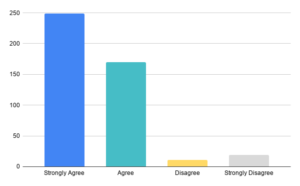 ---
"Within CEL I was able to further understand my personal values and learn how I can apply them in my life. I believe that I will be an active community member and provide support using the valued information I learned in this course."
Bonner Institute
With 85 Bonner Scholars serving 15 community partners, the Bonner Institute strives to create both a learning experience for students and service that assists community partners with their needs. Bonner Scholars complete Grade the Day surveys to evaluate the efficacy of the programming for meetings. In these meetings, Bonner Scholars gain knowledge and reflection through carefully planned curriculum. There are cultural competency, social identity, and civic engagement components incorporated into the program. Results from the Fall 2020 All Bonner meetings showed 94.6% of Bonner Scholars graded the meetings within the A range, with 5.4% assigning a B range grade.
---
"I learned about the importance of working within your community to enact change related to social justice. There is a lot of work to be done but change is possible when communities come together to achieve a common goal."
Faculty
Faculty Fellow
Dr. Robert McGreevey, professor of History, is the Center for Community Engagement faculty fellow. He has been instrumental in providing the Center with faculty perspective through the creation of the strategic plan and other Center operations.
Faculty Highlight
Dr. Monisha Pulimood is the Barbara Meyers Pelson Chair in Faculty-Student Engagement, Professor and Chair in the Department of Computer Science. Dr. Pulimood has been instrumental in coordinating Collaborating Across Boundaries to Engage Undergraduates in Computational Thinking (CABECT) at TCNJ. CABECT is funded by the National Science Foundation. She moderated the Annual Barbara Meyers Pelson Lecture Series: Collaborating Across Boundaries (CAB) to Solve Complex Problems in November 2020. Learn more about her work with the program here.
Faculty Publication: Civic Engagement Across the Computing Curriculum
Authors: Mark Goadrich, Michael Goldweber, Matthew Jadud, S. Monisha Pulimood, Samuel A. Rebelsky
Abstract: "As outlined in the ACM Computer Science Curricula 2013 Guidelines section on Social Issues and Professional Practice, "Students must also be exposed to the larger societal context of computing to develop an understanding of the relevant social [and] ethical … issues." In this panel, we demonstrate diverse approaches used to achieve this goal with respect to civic engagement. Drawing from experiences with non-major, introductory computing, mobile applications, software engineering, and interdisciplinary courses, we discuss how to move beyond surface-level discussions of ethical case studies toward an integration of civic engagement activities and personal reflection into standard computing curriculum."
Site: https://dl.acm.org/doi/10.1145/3287324.3287335
Capital City Youth Violence Coalition
Through the Capital City Youth Violence Coalition (CCYVC), many partners have come together to address the issue of youth violence in the City of Trenton. From this work, multiple projects have emerged to create solutions. The Trenton RISE Center now provides a safe place for youth to go with multiple programs. This dashboard provides a deeper look into projects that are addressing the goals and objectives of the Coalition. You can learn more about CCYVC here.
Connect Trenton
Connect Trenton is another initiative that was started through CCYVC. In response to the challenges presented by COVID-19 in Fall 2020, the Trenton public school district provided an online hub for parents learning new technologies like Google Classroom. As part of its Every Day Matters attendance campaign, the district's Parent Coordinator Denise Kreiss and The College of New Jersey's Connect Trenton Coordinator Luke Thompson began organizing the Parent Connections workshop series. In each session, community providers offer expertise to parents and families as they navigate virtual instruction and support the social-emotional wellness of their children. Read more about this initiative here.