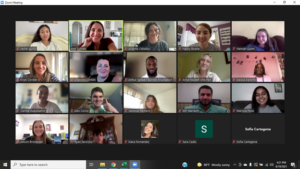 Preparing meal & food donations for Trenton residents. Making literacy and science fun for local youth on Zoom. Connecting with community members within the community garden. These are just a few examples of TCNJ's Summer Community Leaders' experiences this summer. On August 20th, TCNJ's Center for Community Engagement, in collaboration with the Center for Career and Leadership Development and the NJ Bonner AmeriCorps program, wrapped up our fifth Summer Community Leaders (SCL) cohort!
SCL is a ten-week summer of service experience that integrates community engagement and professional development to create a collaborative learning community. This summer we placed 17 students with 10 community organizations in Mercer County, with the vast majority of sites located in Trenton. Over the course of the summer, SCL members served a total of 4,250 hours and participated in over 850 total hours of professional development. Virtual professional development sessions focused on a broad range of topics from the social determinants of health to data collection to networking and public speaking. SCL members also participated in bi-weekly discussions exploring one of two books: Evicted: Poverty and Profit in the American City by Matthew Desmond or This Book is Anti-Racist by Tiffany Jewell.
Marissa Peña, a member with Capital Area YMCA, shared in her closing evaluation that "This experience made me feel inspired to continue serving the communities I am a part of. I feel more understanding of the needs of the Trenton community (especially with the issue of food insecurity) making me better able to serve it." The majority of SCL members reported that they are more likely to continue participating in community engagement because of their summer of service.
To learn more about Summer Community Leaders please visit https://cce.tcnj.edu/cel-institute/scl/ or email scl@tcnj.edu.