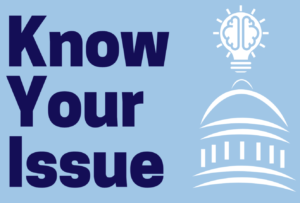 The Know Your Issue (KYI) project connects the public policy research interests and capabilities of college students with the information needs of community-based organizations working to address pressing social, economic, and environmental issues. This research opportunity provides students with training and support to explore the scope of the problem, current policies, and effective solutions to issues they are passionate about. Most research topics are also selected based on the work or research needs of a particular community-based organization, giving each research project a local and real world application outside of the classroom.
During the 2020-21 school year, 24 students from 13 different majors attended regular KYI training sessions. This group produced 16 total issue briefs on topics related to Adult Education, Environment & Food Security, and K-12 Education. For most students, selected research topics touched on their personal, academic, and career interests.
This academic year, a group of Bonner and CCE students and staff are collaborating with faculty in the School for Humanities and Social Sciences to offer credit-bearing Know Your Issue research opportunities to any interested TCNJ student. Looking long-term, the KYI project hopes to make public policy-focused community-based research opportunities available to TCNJ students across all departments through academic courses and independent studies.
If you are interested in collaborating with or getting involved in the Know Your Issue Project, please contact Landis Hackett: hackettl@tcnj.edu.