We welcome TCNJ volunteers of all ages and skillsets! Bonner Volunteers (B-Vols) are able to serve on a regular or occasional basis, and we often reach out to these students when we have large projects or last-minute needs. Bonner Volunteers become instrumental members of our site teams, and often apply to the TCNJ Bonner Community Scholars programs after serving with us.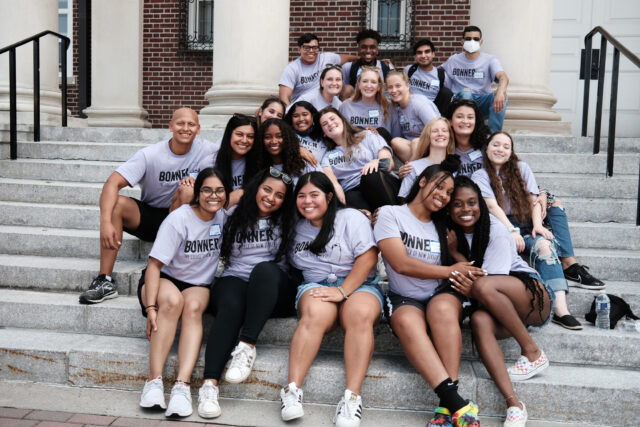 If you are interested in becoming a Bonner Volunteer, please follow the steps below:
In order to volunteer, TCNJ students must email bonnervol@tcnj.edu expressing interest.

After your request is received, we will send you several Google Enrollment forms to complete.

We will schedule you based on the community service sites you selected and your submitted availability. Once matched, we will forward your contact information to the appropriate Bonner team site leader.

The Bonner team site leader will then reach out to provide information and expectations specific to the site, including but not limited to: attire, the nature of your work, and the community partner you will be working with.

For transportation, you will meet the Bonner Scholars on the decided date(s) and time(s) to travel together to the site. We have vehicles dedicated solely to providing transportation to and from service sites. TCNJ Bonner Scholars and Bonner staff are authorized to drive these vehicles. Personal transportation to and from site will not be permitted.
If you have any questions, please email
bonnervol@tcnj.edu.
Here are a few of the TCNJ Bonner Community Partner sites that are open to B-Vols:
El Centro de Recursos Para Familias

– Basic Language Instruction, ESL

Fernbrook Farms –

Environment and Education

Greg Grant Academic Sports Academy –

Education, Youth Development, Mentoring

TCNJ Campus Garden & Mercer Street Friends Food Bank –

Emergency Food Distribution

PEI Kids –

Life Skills Classes for Juvenile Offenders, Writing Workshops

Trenton Central High School (BTE)

– Arts/Media Service Learning, Tutoring, College Prep