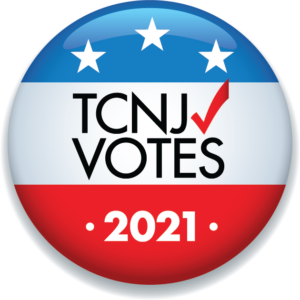 Voter engagement has been a constant topic of conversation on campuses across the country in the last few election cycles–including at TCNJ. TCNJ Votes is the campus committee devoted to increasing voter education, constructive political engagement, and voter turnout within our campus community. Many segments of campus came together to support these efforts in 2020 and 2021.
According to the NSLVE report, released in October 2021, in 2016 TCNJ's overall turnout of eligible voters was 53.9%. In 2020, we increased eligible voter turnout to 83.1% which earned TCNJ a Platinum seal and the distinction of the Best in Class Highest Overall Voting Rate at a Public, 4-year College award from the All In Campus Democracy challenge.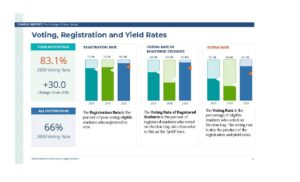 TCNJ Votes is chaired by the Director of the Community Engaged Learning Institute, Brittany Aydelotte, and the Director of Leadership, Dr. Avani Rana. Both offices worked closely with Student Government, Advanced Community Engaged Learning courses, and the entire TCNJ votes committee to develop engaging initiatives across multiple platforms.
To increase voter education, the TCNJ Votes committee went virtual. The Office of Leadership created a module on Canvas Commons with information on voter registration, frequently asked questions, and links to help students think critically about important issues. Our campus community downloaded this module into 171 different courses in 2020, including all of the CCE's FYCEL courses which reached over 700 freshmen. In 2021, the TCNJ Votes committee hosted several Zoom panels with prominent NJ stakeholders such as NJ Secretary of State Tahesha Way, local representatives: Senator Shirley Turner, Assemblywoman Verlina Reynolds-Jackson, Assemblyman Anthony Verrelli, and hosted a Civically-Engaged Alumni Panel with the support of President Foster.
TCNJ Votes also participated in the 2020 NJ Ballot Bowl, a competition between NJ Colleges and Universities to increase voter participation. TCNJ's Student Government won the 2020 Ballot Bowl Video Contest by scoring the most views. You can see the video here. In 2021, TCNJ participated in the All In to Vote challenge for the NJ gubernatorial election. FYCEL students, led by a Bonner Scholar, tabled every Monday to ask our community to vote–and their enthusiasm garnered significant support!
Despite challenges, TCNJ's campus came together to continue our College's mission to sustain and enhance our communities both locally and globally through civic engagement.